Time is precious, Time is money – the cliche list goes on! And while these may be true – what can we, small business owners do, in a practical sense, to improve the use of our time and get the most from our efforts.
This article will discuss ways that small business owners can increase profits by increasing productivity. Let's dive in!
Common Challenges that Small Businesses Face
Information Overload

Technology is helpful but it's also a major distraction in the workplace

Dealing with Interruptions
Overflowing Inboxes
Shifting Priorities
Lack of Time
1. Identify Your Business Challenges
Ask yourself some questions to get started
What are you struggling with, in your small business?
What are the possibilities for moving forward?
2. Set your Business Goals
Set some time aside to work out your businesses short and long-term goals
The end of the financial or calendar year is a great time to do this
Once your goals are set – revisit these regularly and keep them front of mind.
3. Identify the Benefits of Adding Structure
Ticking off your to-do list
Finding things quickly
Having an empty inbox
Save money
Save time
(The REAL Benefits)
Take control of your time
Achieve your goals and dreams
Decrease stress
Gain hours in your week
Spend that time on what matters most to you
4. Understand why your business is struggling
Lack of a strategy for personal productivity
Undeveloped or absent positive habits
Lack of discipline
Absence of systems or not using smart systems
5. Leverage the Keys to Success
Know your Priorities

Analyse what you're currently doing
Identify your day to day and higher-level priorities
Break down your goal dependant priorities into activities to do on a daily basis
Add Structure to your day and your business

Add Systems
Maintain the new status quo with discipline
The ONLY thing we spend is Time
How are you spending your time each day? Time is everybody's most valuable resource. You can
WASTE it
SELL it, Or
INVEST it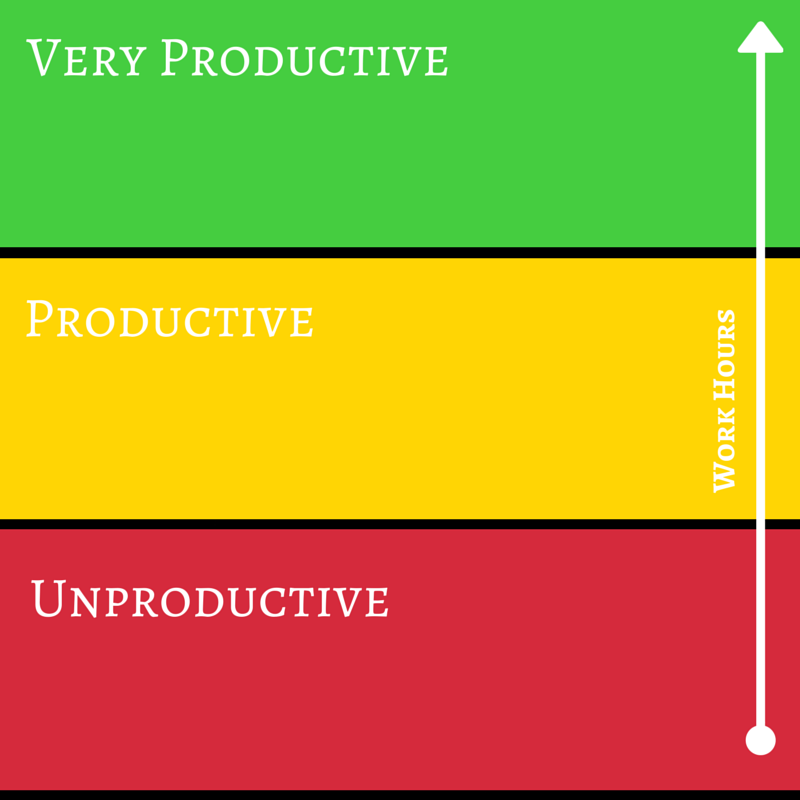 ---
Leverage the Keys to Success
A. Know Your Priorities
Take stock of how you are currently spending your time

Keep a diary for several days or weeks
Work out how much time does it take you to do a task? You can time yourself to work this out (or use a time-tracking app – e'g Harvest, RescueTime, Toggl)
Identify your tasks and categorise into

Ad hoc / one-off / irregular
Weekly, Monthly, Quarterly, Yearly

Divide your tasks into levels – Low, Medium, High

Setting these is like filtering – eg scanning through email
It can be useful to use a decision-making matrix to do this (see below)
Knowing your commitments goes hand-in-hand with this process
Don't disregard commitments outside of your business!
QUESTION if these tasks are the best use of your time

Do you add value to the task?
Could it be outsourced cheaper?
Could someone else do it better?
Could it be streamlined or eliminated?
Could it be automated?
B. Add Systems and Structure
There are many ways to accomplish this! Some examples are
TIME MANAGEMENT
Set up a structure around your time to maximise efficiency and reduce overwhelm, over-committing yourself and, burnout.
Don't have "unplanned" days
Add time for tasks and projects
Batch your time
Plot your tasks onto a calendar – eg Google Calendar
Don't over-schedule yourself!! Only 50% needs to be scheduled
Add breaks in – lunch or reminders
Use the features of your calendar – repeat etc
If tasks are date sensitive – add immediately!!
Use a productivity or planning app
WORKSPACE ORGANISATION
Have a designated place for things
Remember our workspace is

Physical
Digital

Computer – files, software
Communication channels – work coming in
WORKFLOW ORGANISATION
Manage all aspects of your work – eg. contacts, onboarding, email, doing your work/client tasks
Basic workflow example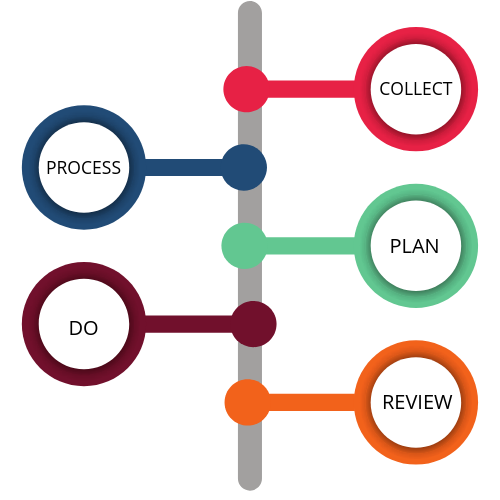 Collect
Identify and manage your collection buckets – this is where you gather things – eg. email, voicemail/SMS, Messaging – Skype, Messenger, Social Media apps
Process
What is it?
Is it actionable?

Yes

If it can be done quickly (2 mins) – do it
If it will take longer

Delegate it
Defer it – add to calendar or planning app

No

Delete/Trash it
Defer long-term – "someday"
Add as reference material
Plan
As above – use of calendar or planning app
Review
This can be done daily, weekly etc. Ask your self – "How did things go?, What went well, what didn't? "

You can use a simple plus-minus list for this
Ensure that you reward yourself for what you've achieved! Celebrate your wins – small and large.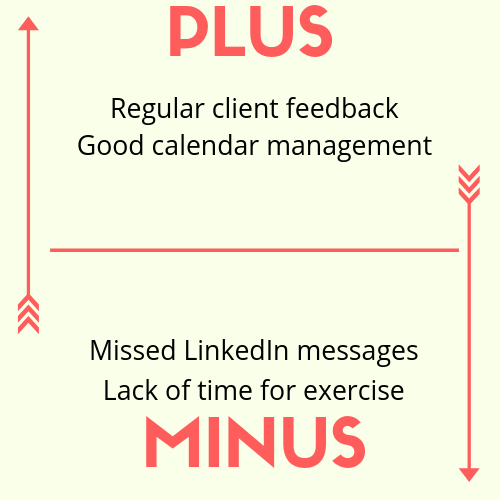 C. Discipline
There are 2 schools of thought
Make changes one at a time and sustain the change before adding more
Radically change many things all at one time
Maintaining change and creating discipline is related to the creation of HABITS
HABITS
Focus on protecting your time – examples

Turn off phone and notifications at a certain time each day
Say "no" – if you find it difficult to say no immediately – delay so you can make a decision
Implement planning and prioritisation daily
Simplify

Workspace, wardrobe, possessions etc
Clean up at the end or beginning of each day
Single rather than Multi-tasking
Create Systems and Rituals

Around common actions, tasks that repeat themselves
Mornings
Bedtime – Sleep Hygiene
Aim to Continuously Improve

Healthy eating
Weekly review to check and maintain progress
A NOTE ON TO DO LISTS
These fall in between planning and doing
Choose what works for you (there are many types!)
Keep it simple, short – 3 to 5 things per day, concise, use a verb!!
Use Action or Doing words
Also add context, work out how long it will take you, choose the best time of the day