Content Marketing is a large part of doing business online these days
Think of your content as the fuel that drives your marketing. It will attract not only visitors to your site but by creating valuable, specific and relevant content you'll attract the right visitors – ones who will likely convert to leads and customers of your business. Content also helps SEO by earning your site inbound links which increase your ranking and improve your website's search-ability. Source
For many of us though, it doesn't come naturally so let's break it down to some bite-sized pieces which won't only make it easier to do, but more successful too.
Brainstorm
Have a strategy planning session (let's not call it a meeting!). This is a great activity to do together with those not only who will be responsible for executing your content marketing but also the stakeholders of the business.
Some things to pin down in this session if you haven't already
Your buyer personas, their pain points and how you help them
Which Social Media platforms you'll be using
How regularly you will be posting
Your mix of content – I really like this example from Heinz Marketing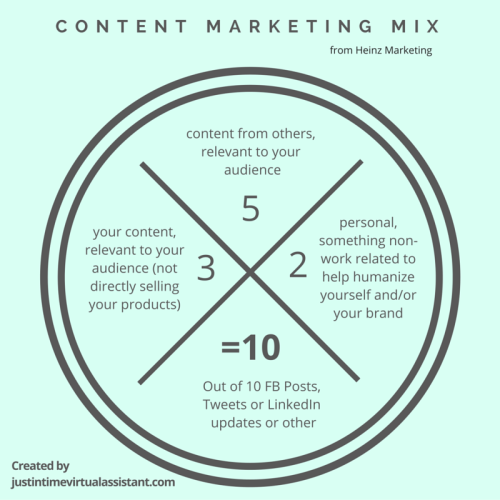 Here are some milestones to place on your calendar – you may have many more
Relevant World or National Events to promote or link to
Local and community events e.g sporting, fundraising, celebratory
Your important dates for the year – planned sales, product promotions, service additions etc
Any seasonal variations
This is the time to line up and link your Social Media ROI goals with your business goals.
Decide what your KPI's will be and how you will measure these. This will help you later to refine and redirect your efforts if you aren't getting the results you'd hoped.
Keep your goals SMART (Specific, Measurable, Achievable, Relevant, and Time-bound) and develop tracking systems for these KPI's and goals.
Stay true to your brand
Your values define your company. Don't be seduced by the informality of Social media to share what doesn't reflect your values.
Stay authentic and use a human voice. Focus on your audience more than yourself. Understand their pain points and how you can help them. Talk about the benefits of your products and services, not the features of them.
Know your customer – what interests them, concerns them, entertains them? Be inspirational!
Set up a Content Marketing schedule
Any marketing plan requires a good strategy. Many small businesses feel overwhelmed by the amount of work this represents so scheduling is a great way to introduce structure into the process and help you break it down into manageable tasks and, start assigning those tasks.
Creating a plan, template, spreadsheet or calendar simply involves making the information available to those who are involved in your marketing strategy. You keep all your communication streams in one place.

What's are the benefits of using a Social Media Content Calendar?
Easy to read
Contains all necessary information for your content marketing strategy
A separate sheet for each month
Activities are broken down by month or day, depending on the volume of content you plan to publish
If you have more than one contributor – use the calendar to reflect which of your writers is responsible for writing, publishing and promoting each piece of content
If you have several social media channels for content promotion, it helps to include icons representing each network next to the title of the post—this way, you can streamline your content marketing and social media strategies. Source
Re-Purpose It
Content marketing especially blog writing takes time. Once you've created a piece don't use it only once!. This great Buffer article shows 21 ways of re-using content across various Social Media sites. Not all of them may be relevant to your business, but I'm sure that at least 10 will resonate.
These are the ones I like most
Share to social media—again and again
Create 20+ snippets for easy sharing (Tweets, etc)
Design an Instagram tip
Refresh and republish
Turn it into a webinar
Build a daily email series or email course
Share content as a pdf
Record a podcast
Make a video
Remember, it's ok to build on the ideas of others. Resist the temptation to copy them directly but instead see if you can approach them in a fresh way that puts your spin on the original. I like this graphic from CoSchedule which explains how to build on blog ideas.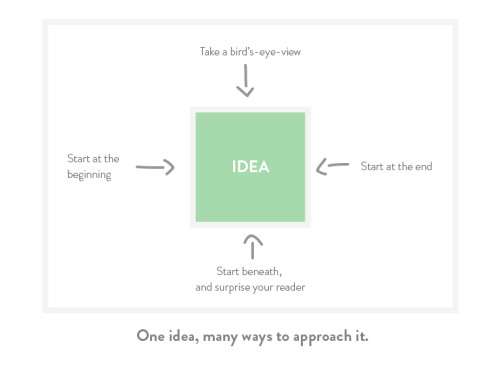 Measure your Success
When you defined your goals, you also set up a tracking system to measure your success. Ensure you are doing this on a regular basis. Track specific campaigns especially when you're using paid options to ensure a positive return on investment (ROI).
Finally, if things are going well, great – continue! If not, take stock and do some problem solving.